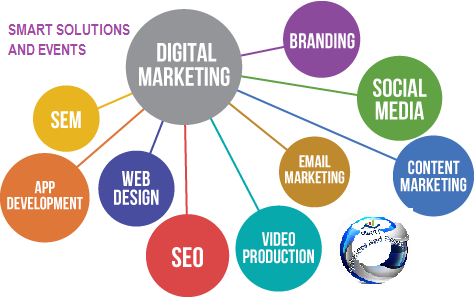 With our expert professionals in Customer service environment and IT management, we are here to deliver expert and secure web designing , digital marketing, public relations and corporate event management services to any sized Business IT Services – small, medium, large, corporate, non-profit with improved security and compliance. Our staff is equipped to provide all routine  management and maintenance for your valuable infrastructure!
What can we do at Smart Solutions & Events?
One Stop Shop End to End Event and Expo Management with efficient websites, digital media and public relations services for your Small/ Mid-Sized Business
Our goal and mission is to Delight our customers with our superior personalized services. At Smart Solutions & Events, we Have the flexibility to start with the services that fits your budget and make the most sense for your organization. We have options from hourly management services to flat fee monthly, quarterly and annual services.
Low budget, do more with little, zero administration cost non-profits have started realizing the critical role of technology in advancing their vision and mission. We understand non profit  Organizations resource and administrative  constraints, operational practices and the applications, databases and the growing need to be smart in the areas of raising corporate funds.With our specialization in Nonprofits website management, we deliver the up-time, performance and security your board, members and donors expect. And with less time spent on technology issues, you'll have more time to focus on your organization needs and priorities.
Manage and monitor your websites.
Suggest multiple options to help with your fund raising initiatives
Manage your vents with our expert team of event managers.
Check our varied event management services
Manage your member / volunteer database
Manage your social media
Expert guidance on picking the right beneficiary
Provide you with a Customer Advocate to make sure your issues and concerns are addressed
Much Much More….
Promotional PR – Additional Non-Profit Event Services:
PR packages for TV, Radio and Newspaper – Media Promotion
Email marketing Packages
Event Hosting services from venue search through planning and execution, vendor management, PR management, Event Emcee, Presentation creation and delivery, Food arrangements, complete end to end services for a successful non-profit kickoff event
Take advantage of our detailed Email Options
Email is the life blood of many organizations. We offer the following options to our hosted email service for your nonprofit organization:
Mobile email , Email archiving, Mass Email, Copy and Blind Copy, Email open Tracking softwares and much more!
Get yourself A secure, affordable, trouble-free alternative to purchasing, managing and maintaining desktop equipment. On top of that, get yourself a friend and guide on side!
Contact Us Today For a Free Quote!